Exhibition of Chinese Musical Instruments in Mafra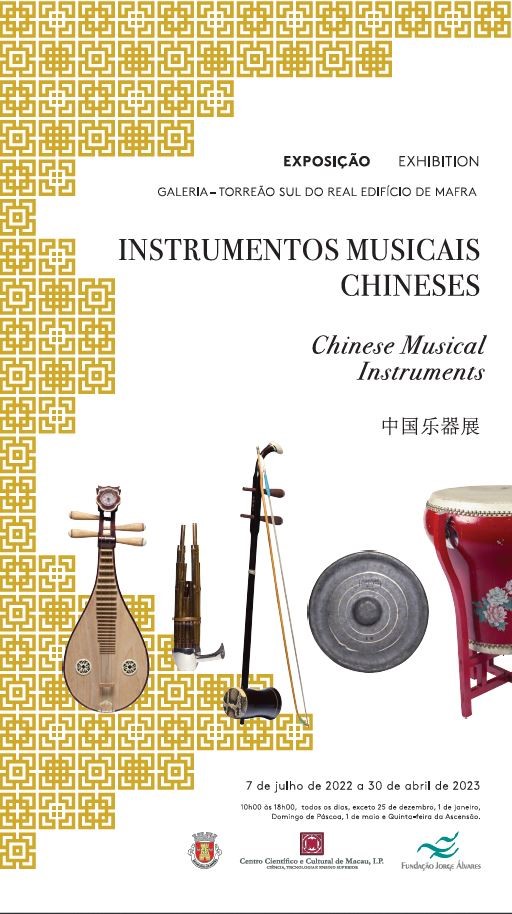 The Municipality of Mafra, the Scientific and Cultural Center of Macau (CCCM) and the Jorge Álvares Foundation inaugurate the Exhibition of Chinese Musical Instruments on July 7th, at 10:30 am, in the new Gallery, located in the South Tower of the Royal Mafra Building , on the occasion of the 3rd anniversary of the inscription of this complex on the UNESCO World Heritage List.
Open until April 30, 2023, the exhibition gives to the Portuguese public and foreign visitors, a representative Chinese instrumental collection in Mafra, a village that has a historic relationship with music.
The collection of musical instruments on display in the Gallery is part of the CCCM museum collection in Lisbon, representing original pieces used by the Macao Chinese Orchestra in its various performances in Europe throughout the 1980s and 1990s. Among the instruments on display are: aerophones, fretted, plucked and percussed chordophones, as well as metal, wooden and leather percussion instruments.
The exhibition is curated by Enio de Souza, from the Institute of Ethnomusicology – Center for Studies in Music and Dance at Universidade Nova de Lisboa, and with the collaboration of Frank Kouwenhoven, Director of the European Foundation for Chinese Music Research (CHIME).